by Shirley Chan

(Rotorua Daily Post, Bay of Plenty Times, Wairarapa Times Age & Oamaru Mail)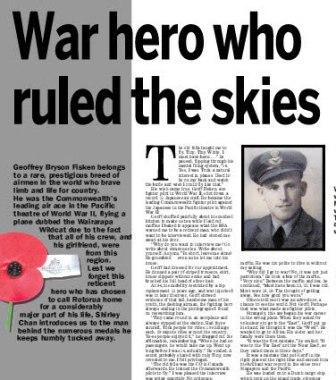 "The old fella taught me to fly.  Tiny. Tiny White.  I must have been…" he paused, flipping through his mental filing system, "14.  Yes, I was.  Took a natural interest in planes.  Used to lie on my back in the paddock and watch the birds fly and wish I could fly like that."
His wish came true.  Geoff Fisken, Ace Fighter Pilot in World War II, shot down a record 11 Japanese Zeros.  He became the leading Commonwealth fighter pilot against the Japanese with the highest number of strikes in the Pacific theatre in WWII; Geoff Fisken in his faithful Brewster Buffalo, the Wairarapa Wild Cat.
Geoff shuffled painfully about his modest kitchen to make us tea while I laid out muffins I baked to appease what the  RSA warned me to be a reticent man, who didn't want to be interviewed.  He had shooed me away at his door.
"Why do you want to interview me?  Go write about someone else.  Write about yourself.  Anyone."   In short, leave me alone!  He grumbled – even as he let me into his house.
Geoff had dressed for our appointment.  He donned a pair of striped trousers, shirt, house slippers without socks and had brushed his full head of silver hair.
At 91, his mobility restricted by a hip replacement 12 years ago, and war injuries I was to later discover, Geoff showed evidence of that tall, handsome man of his youth, the dashing airman, the fighting hero always smiling in the photographs I found on researching him.
"Tiny came round in an aeroplane and always stopped at the station.  Had three aircraft.  Took people for rides.  10 shillings each.  20 minute rides around the country.  Ye-es people enjoyed it," he dragged out his affirmation, remembering. "When he had no passengers, he would take me up.  Went up long before I was 14, actually."  He smiled.  A secret probably shared with only Tiny, now revealed to me.  I felt privileged.
"The old fella was the  CO in Canada afterwards.  He trained the Commonwealth pilots to fly." I was pleased the interview was going smoothly. No reticence.
The "old fella" wrote to Geoff's mother about the impending war. If Geoff wanted in, he had to get in, "in a hurry" before it was too late.  So Geoff did.
"Learnt to fly." he continued.  "When went to the Air Force had to fly the Air Force way, not Tiny's way." Geoff guffaws heartily.  "Yes, there was a difference.  Was told that in no uncertain terms."  He widened his eyes to emphasize his point.  With his arms on the table, fingers linked, he twiddled his thumbs.  I offered him a muffin.  He was too polite to dive into it without my asking.
"Why did I go to war?  No, it was not just patriotism." He took a bite of the muffin.  "Very nice."  Between the muffin and tea, he continued, "Must have been 22, 23?  I was old.  Most were 18, 19.  The thought of getting away.  See how good you were."
Others told me it was an adventure, a chance to see the world.  Not Geoff.  Perhaps that was what made Ace fighter pilots.
Strangely, this Ace began his war career in the wrong place.  When they asked for volunteers to go to the "East", Geoff put up his hand.  He thought it was the "West".  He wanted to go to Africa.  His sister and her family were there then.
"It was the first mistake," he smiled.  "It was to the "far east" not the "near east", as they called them in those days."
It was a mistake that put Geoff in the right place at the right time and earned him his brilliant war record in the skies over Singapore and the Pacific.
He was loaded onto a Dutch cargo ship which took up the island trade, stopping over at every island on the way to Singapore, via Port Moresby and Bali.  There were no people on the boat; just four Air Force men and two Vietnamese, repatriated from Australia.
The ship spent a week at every place, a leisurely sail across the Pacific.  I thought it ludicrous for a holiday cruise during war times but learnt that the war in Europe had begun and the Japanese were not yet involved.
Geoffrey Bryson Fisken was born to a Gisborne farmer on February 17th 1916.  Geoff was farming sheep in Masterton in 1939 when he volunteered for flying duties with the  RNZAF.  As farming was a reserved occupation then, he was not able to enlist until 1940.
Geoff trained at Bell Block, at Ohakea Airbase, graduating as a Sergeant Pilot in 1941.  His first trip overseas was an eye-opener for he had never been away from his father's farm much.  As a child, the only transport they had was a horse.  He went everywhere on it.  25 miles to play football and then back home again.
"It was a fair day's ride," he recalled.  "When we went from one station to another, we would stop to talk to someone or do something.  Normally stay overnight."
There seemed to be a fair bit of socialisation in rural areas but nothing prepared Geoff for what the world had to offer outside of his father's station.
"In those days Balinese women were topless.  Their sarongs never came above their waist.  After a week our eyes were so sore and I was pleased to get back on the boat.  They (breasts) were all shapes and sizes," he recalled with a twinkle in his eye and a hearty laugh.
Upon arrival in Singapore, Geoff was to join 205 Squadron  RAF  but the  Short Singapore flying boats he was to fly, were transferred to No 5 Squadron RNZAF.  Geoff was then sent to train to fly  RAAF CAC Wirraways and Brewster Buffaloes.  He was finally posted to 243 Squadron RAF where he made history with his exceptional dog fights.
"Three years in Singapore.  1940 to 1942.  No one would go out until ten at night.  It was cooler then."  Geoff made a move to get more tea.  I obliged instead and he continued.  "Three big halls called New World, Great World and," he paused for a moment, "and something else.  Dance halls they were.  Ten cents to dance with the girls.  Didn't dance.  I didn't like dancing much.  My friend, an officer, used to take off his coat, put mine on and dance with the girls.  He was an officer and I was a Sergeant Pilot.  Officers weren't allowed in the dance halls."
Geoff was not afraid once in the thick of a dog fight but he was terrified on the way to one and getting out of one.  The Buffalo was a full metal plane, heavy and slow, travelling at 350 mph in a 10 mile area.  The fighter pilots would go up in a group of 12 planes, then each one was focused only on staying alive.
"Dog fight with a Jap Zero was committing suicide.  Zeros were too good.  Lighter plane, could turn inside you and had more speed.  Had to get in quickly, fire three to five second bursts and dive for the ground as fast as you can.  Or you could have five, six Zeros at your tail firing at you."
In one dog fight, the Wild Cat took 153 bullets; all in the wrong places.  None found Geoff.
"Why did we name it the Wairarapa Wild Cat? The American engineer squadron.  Their emblem was a black cat.  So the Yanks put it on the plane.  When the plane was given to me to fly in Guadacanal, they asked what you gonna call him?  It had a big black cat, my mechanic was from Wairarapa, the rigger came from the Wairarapa, the Aerial Armour came from Wairarapa and my girl friend was a Wairarapa girl.  We had to call it Wairarapa something."  He added, "We got married after I came back from the war."
"The planes had synchronised propellers.  Two guns firing through them.  If not synchronised, you shot yourself."  With a cheeky smile at my horror, Geoff added, "but it never happened."
"But the guns jammed a lot, didn't work etcetera, in the air."   It had to be either blind machismo or stupidity to fly time and again with such malfunctions – sheer suicide.  Breaking the macho myth, Geoff said, "Dead scared when it happened….but no panic."  I thought the latter was another reason he was an Ace.
"Injuries? Three times.  All occurred in the air.  Dog fights."  I thought he was incredibly lucky with so many dogfights in three years.
"First time, a piece of metal from cannon shell hit the cockpit and then bounced into hip.  Didn't feel it until I came back down after dog fight." Geoff smiled.  He was a very affable, gentle sort of man with a voice, gone raspy with age.  It was hard to believe he killed at all.
"Only knew about it when my mechanic fainted.  When he saw the blood all over my overalls."  Geoff tried to pull it out with a pair of pliers.  It didn't work so he had to go to the hospital.
"Second time was a bullet in the knee.  In the bomb hole."  I presumed the bomb hole was a part of the plane.
"Bullet hole in the left arm.  Didn't feel it until I came back down, " he  recalled his third hit.  He didn't elaborate.  After the plier attempt, I concluded that a bullet anywhere else by Geoff's standards would be uneventful.
I listened incredulously as he recalled how he put sulphuramide on his wounds, injected himself to numb his leg every morning and then got into his Wairarapa Wild Cat and into yet another dog fight.
The enormity of it all hit me then – that there was such commitment, such single-mindedness in men who ensured I had a free life, by risking their own.